"

Every heard of 'Spin to Win'? You're about to win a prize of PAIN!

"

—Rockspin, doing his signature attack
Rockspin is a vicious figter in Scout Prestige. It jumps high and is smaller than normal fighters. It's special ability is called Spin to Win, and it basically gives rockspin a spinning animation and it becomes faster for 30 seconds. Also when enemies touch this, they get injured.
Rockspin was simply a normal rock, then it was fused with a spinner by a mad scientist. Rockspin abandoned the mad scientist and now is a fighter!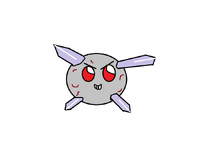 Fighters In

Vauge
Vicious
Vengeful
Veteran